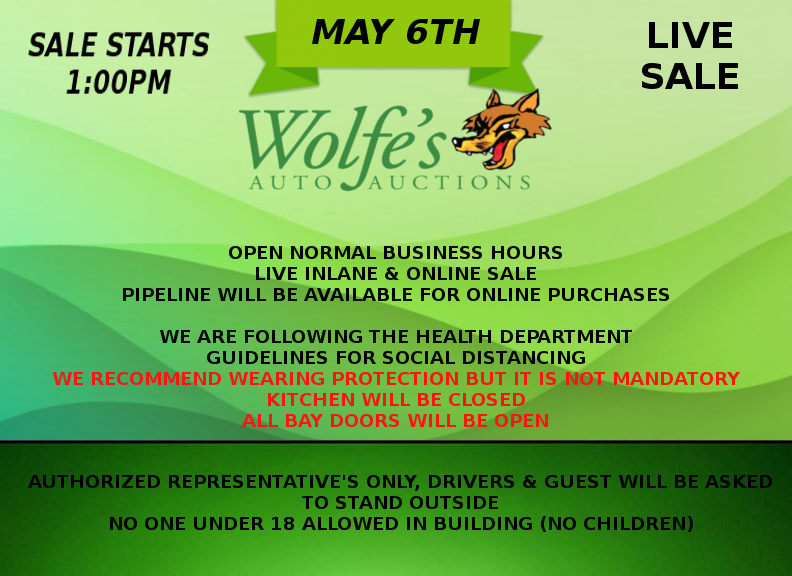 Wolfe's Auto Auctions is excited to begin live sales again as we all have had some trying times this last month. In order to stay within State CDC Guidelines certain changes will be implemented at the sale. Please read our guidelines below and have yourself prepared for sale days at each location.
COVID 19 Guidelines
Only Authorized Registered Dealers are allowed in the building and lane / sales arena. All Drivers, relatives and customer employees must remain on the lot and outside our buildings to help keep capacity at CDC Guidelines.

Customers are asked to please maintain CDC Social Distancing Guidelines on all Wolfe Properties.

We ask all employees & customers to maintain good hygiene, use our sanitation stations and avoid our buildings in general if you have any symptoms of illness or have come in contact with COVID 19 virus.

All counters have been installed with sneeze guards for the safety of everyone.

Masks / Face coverings are recommended by the CDC.

All our employees have been screened prior to work to help keep our work environment safe.

Daily deep cleaning is being done at Wolfe's Auto Auctions for the safety of Employees & Customers.

No vehicles will be driven across the block to allow for more room and social distancing in the Sales Arena. Wolfe's have installed more TV's for pictures, CR's and current / upcoming sales information. As guidelines loosen, we will return to running cars across the blocks for sale.